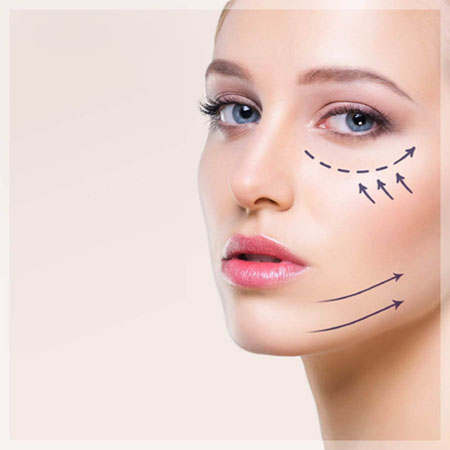 High-intensity focused ultrasound [HIFU] treatment is a recent addition to the methods used for facial rejuvenation, lifting, tightening and body contouring. It is a safe, effective and non- invasive treatment.
PRINCIPLE:
High energy beams of ultrasound are targeted to specific tissue depth without any damage to the epidermis and the adjacent tissues. As compared to radiofrequency and lasers, the penetration is to a deeper plane.
A] SKIN TIGHTENING PRINCIPLE
The HIFU machine releases highly concentrated focused sonic energy that can penetrate as deep as the SMAS fascia. Heat damage in the deep dermis and the SMAS layer stimulates the production of new collagen. The sagging of aging skin is reduced and wrinkles improve as a result. It literally achieves the results of a facelift or a body lifts without any invasive surgery or injections without any downtime.
It works equally well for people of all skin colors, in contrast to lasers and the intense pulse lights which have a higher incidence of side effects in people with a dark complexion.
B] FAT REMOVAL PRINCIPLE
High intensity focused ultrasound targets fat to a depth of 13mm, heating up the fat tissue which is later removed by the body through metabolism. There is no damage to the vessels and nerves. The treatment works for the abdomen, flanks, thighs, calves, and arms. It is an invasive, impressive and long-lasting.
Functions and Uses of the HIFU beauty machine:
Remove wrinkles on around forehead, eyes, mouth, etc
Lifting and tightening both cheeks' skin
Tightening the skin tissue on the forehead, lifting the eyebrows lines
Improving skin complexion, making the skin delicate and bright
Removing neck wrinkles, protecting neck aging
Body shaping and fat reduction
This technique can be applied to the face as well as the whole body.
Advantages:
1] Safe and effective
2] Non-invasive, Non-surgical
3] Results last long for 2-3 years
4] Relatively painless, only a feeling of heat during the procedure 
The following pictures provided by the manufacturer help to elucidate the common applications of the procedure-