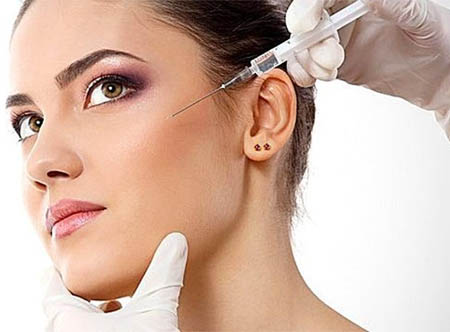 Do you want a more youthful appearance? Botox injections create a younger appearance by relaxing the muscles that create wrinkles. Most commonly, patients use Botox treatment in Delhi to remove crow's feet around the eyes, wrinkles on the forehead, and frown and laugh lines.
It is the most popular aesthetic improvement procedure that is performed by dermatologists and cosmetic surgeon in Delhi today. It is non-invasive, safe and dramatically improves appearance with a look of relaxation and freshness.
Get Immediate Results
Dr. Ashok Tandon will inject small amounts of Botox directly into his facial muscles. You will feel a stinging sensation that will diminish immediately. You will see an immediate improvement in your appearance, but the full effect will be seen after two to three days. Treatment can show visible results for three to six months, and then the area can be removed. After several botox treatment in Pitampura, some patients experience longer periods of time between follow-ups. Most patients can return to full activity immediately after the procedure.
Dr. Tandon is experienced in Botox fillers
Intimate knowledge of anatomy is necessary to place the Botox injections correctly. Dr.  Ashok Tandon's medical training and long experience are his guarantees of a perfect Botox treatment in Delhi.
"Botox" is the abbreviation for botulinum toxin type A, an effective blocker of nerve impulses. The chemical can be directed to the specific muscles that create lines and wrinkles in the face, while the surrounding muscles remain intact. If you are sensitive to the fine lines that come with aging, Botox treatment in Rohini is an excellent option to explore.
It is non-invasive and relatively painless and is performed as an outpatient procedure in our offices. You can go back to work immediately after the procedure. Dr. Tandon will ask you to remain upright several hours after treatment.
Some patients, unfortunately, experience discomfort in the form of localized bruising, headaches and nausea. However, these symptoms are usually of short duration.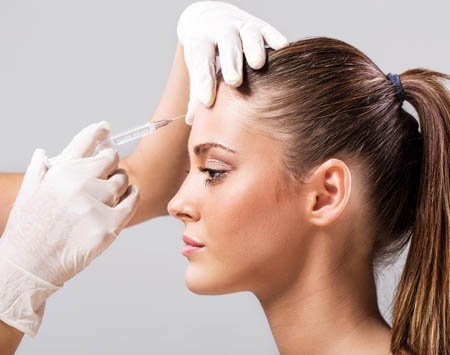 Botox Treatment in Delhi
How does it work and how long does it take to perform a treatment?
In the dynamic facial wrinkles, that is to say, those that are marked more before certain gestures of the face, as frown the forehead or between the eyebrows and are produced by the movement of muscles that are under them. Botox, when injected into these muscles, gets them to relax. Approximately it takes about five to ten minutes.
Is the result immediate?
No. The result is gradually appearing after a few days, which is an advantage for the patient since no one will notice a sudden change in their appearance. The desired effect is achieved after 4 or 8 days. Sometimes, it takes up to 2 weeks. This effect lasts approximately three or four months. In some people, it lasts six months or hardly more. From that moment, the patient can undergo another botox treatment in Pitampura, which will surely be more durable than the first.
What wrinkles can be treated with Botox?
The wrinkles on the forehead, between the eyebrows, and the so-called "crow's feet" are treated, although their use in other areas is possible.
How long can I be treated with Botox?
The botox treatment in Delhi can be repeated every 4, 5 or 6 months without problems, according to the need of the person. There are studies of repeated treatments for 10 years without complications or loss of efficacy. However, there is a low probability of causing tolerance to Botox, and the results last less.
Is the treatment painful?
No. The botox treatment in Rohini does not cause pain. A small amount of liquid is applied by extremely thin needles under the skin, in the corresponding muscle. The patient may notice slight discomfort during the application that is usually defined as mild itching. However, if you do not like injections you can consider other options such as CO2 laser.
Should rest be done after treatment?
No. You can resume normal tasks, work, social meetings, etc. immediately. In addition, the care is minimal: in the 4 hours after the application, you have to avoid rubbing the face (be careful not to do it when washing after botox treatment in Rohini) and lie down or lie down in the first hours, so that the injected drug does not spread towards unwanted areas.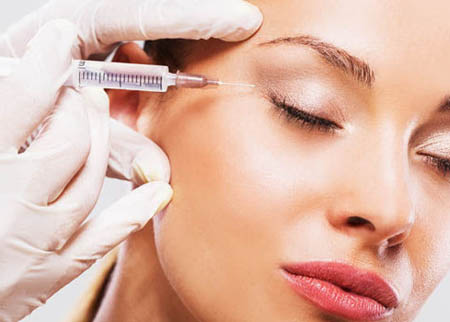 Botox Before and after treatment
What preparation is required before treatment?
You can eat and drive, before and after botox treatment in Pitampura. Simply do not take aspirin or other analgesic medications from a week before. In the next consultation, you will receive the appropriate indications for your case.
What can prevent me from being treated with Botox?
Botulinum toxin should not be used in pregnant women, nor in people with neuromuscular diseases that can increase the effect of Botox, such as myasthenia gravis or amyotrophic lateral sclerosis. Neither should it be used in infected areas. We will discuss the contraindications in the pre-treatment consultation.
What are the risks of the treatment?
Those of any injection, fundamentally a minimum risk of allergy. In about 1% of people treated there may be a slight and temporary fall of the upper eyelid, which usually lasts 2-3 weeks. Occasionally, a small bruise occurs in the area of ​​injection (black eye), headache or tingling in the area. All these alterations are transient and totally reversible. Botulinum toxin has been used with various indications for 20 years (14 since its commercialization) and has been applied to more than one million people without having demonstrated relevant side effects.