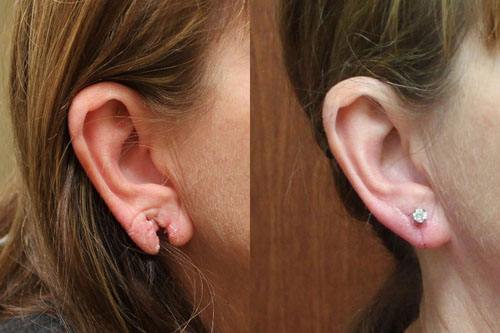 With time, the ear piercings done in childhood and youth tend to become loose and wide. This process is aggravated by wearing heavy ear jewelry for long periods. Sometimes trauma [injury] can hasten this process. In advanced cases, the ear lobule hole becomes so loose that it threatens to cut through, dividing the lobule into 2 halves and required urgent ear lobe repair in Delhi.
Wide lobule becomes a problem because the ear jewelry tends to look very odd as it hangs a bit too low. There is also a chance of it getting lost as it can fall through. When it cuts through, it becomes completely useless and becomes an eyesore.
Treatment-Fortunately, ear lobe repair in Delhi is easy and straight forward. The wide hole is repaired using a plastic surgery technique from both sides. The hole is completely closed most of the time. The sutures come off in one week. Fresh hole [piercing] is done after 3 to 4 weeks. Some techniques can create a hole in the same sitting at the time of repair. The surgery is done under local anesthesia on an outpatient basis.
Some people advertise for non-surgical suturing at local jewelry shops and like places which are not a scientific technique, it gives unpredictable results and may lead to complications. Techniques of plastic surgery in Delhi give excellent and predictable results and are the recommended method of treatment.