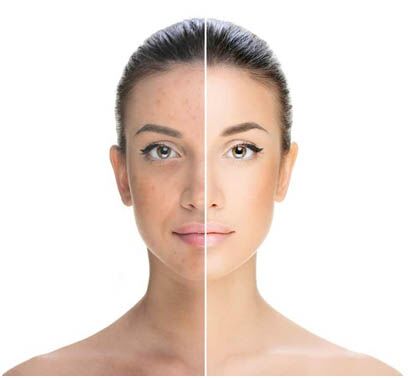 For most women, a small pimple on the face is enough to ruin your day or week. Even the slightest imperfection that may have a 1% chance of being noticed by the other people go crazy. For these women, Melasma is your worst nightmare. It is a fairly common problem, caused by sun exposure, which causes brown spots on the face, which will be permanent, I might add.
If you suffer from Melasma, the way to recover is as follows:
You expect me to fade away.
Your friend will suggest you do a treatment with vinegar, apple cider and lemon juice.
You will feel some disappointment.
Visit the dermatologist to prescribe a bleaching cream.
Total disappointment.
Google searches on the problem.
It overwhelms.
Concealer and makeup become your best friend.
At this point, no one can convince you that there is treatment to eliminate melasma. Try more and more treatment would only worsen the condition, then what will you do ?.
Platelet-rich plasma for Melasma:
What about the platelet-rich plasma for melasma?
According to recent studies, the platelet-rich plasma is showing great promise for melasma. The good platelet-rich plasma for melasma is that it does not worsen the condition unlike the IPL, Fraxel or other treatments. This is one of the treatments that you can try with confidence and without worrying, it's like getting a natural treatment that brings many potential benefits, even if it helps cure melasma.
Injections of platelet rich plasma by supplying growth factors work to reduce pigmentation. Being an independent treatment without downtime, it can be performed with other treatments for melasma improve its effects. There are over 30 bioactive substances in platelet rich plasma having functions as increase skin volume and add new blood vessels, to name a few.
Platelet-rich plasma with microneedles:
This is the most common combination therapy for platelet rich plasma. It is known that the combination produced results for many varieties of pigmentation problems of the skin, so it would be unwise to ignore someone by melasma, especially creams and peels did not help. More important is the ability of PRP to stimulate collagen production in the area, so tightening the pores and make your skin glow.
Why platelet-rich plasma?
PRP is primarily a vehicle for healing. You need to be injected in the membrane below the skin. The way it works is supplied to the membrane underlying skin collagen and tenascin stimulated by transforming growth factor in PRP. These growth factors also promote the formation of new blood vessels that in some cases lead to loss of spider veins.
The growth factors liberated (primarily platelet-derived growth factor (PDGF), epidermal growth factor (EGF), vascular endothelial growth factor (VEGF), fibroblast growth factor (FGF) and transforming growth factor beta (TGF ß) can stimulate the proliferation of fibroblasts and epidermal cells, and collagen synthesis. Furthermore, it has shown that the transforming growth factor beta (TGF-ß) inhibits melanogenesis or reverse skin pigmentation, the effect exactly opposite exposure to UV-B radiation.
Typically, patients see excellent results with 2-3 injections of PRP in the first 3 months. And clinical studies have shown to be maintained after 6 months.
However, it is known that uses Melasma even after successful treatment. Therefore, you should take precautions against using sunscreen with broad spectrum protection and an SPF of 30 or higher. And avoid products for skin care that are severe as they may exacerbate melasma.