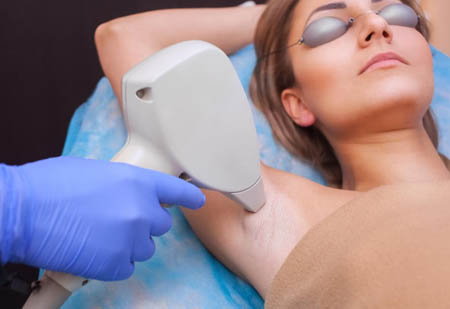 In the winter months, it does not bother us so much, but as soon as the good weather arrives, most women want to remove the hair from the legs, armpits, arms… Hair removal becomes, then, real slavery, because every week or every fifteen days it's a review. And in those moments is when we consider laser hair removal in Rohini, Pitampura, Delhi. If you have not tried it yet, you sure have many questions. Here we give you an answer with the help of an expert cosmetic surgeon in Delhi.
Laser hair removal in Delhi is one of the treatments of beauty most popular. Eliminating body or facial hair permanently is the dream of many women. But it is the most expensive method of hair removal. And that's why there are still many women who prefer to wax or buy an electric epilator. But if you are indecisive, we will try to solve your doubts. Although some celebrities are already betting on not waxing, most women still choose to eliminate body and facial hair, and when the good weather comes, this becomes a real nuisance.
HOW DOES LASER HAIR REMOVAL IN DELHI WORK?
Dr. Ashok Tandon, tells us that laser hair removal " consists of a strong emission of light that uses the hair as a conductive thread to reach the hair follicle, where it is absorbed by the hair melanin and transformed into heat, which destroys said follicle ". With this heating, the follicle will no longer produce hair.
IS IT PAINFUL?
It is one of the most common questions: does laser hair removal hurt? Dr. Ashok Tandon explains that in general, it is not annoying, " thanks to the fact that the equipment has cutaneous cooling systems, which keeps the skin cooled and mitigates the sensation of heat typical of hair removal with laser ". There are always more sensitive areas, such as the bikini line, where you can feel discomfort and, of course, also depends on the pain threshold of each patient. That is why there are anesthetic creams that can be applied one hour before treatment.
Laser hair removal in Rohini can be slightly annoying in some more sensitive areas, such as English, but you can apply an anesthetic cream before.
HOW MANY SESSIONS ARE NEEDED IN LASER HAIR REMOVAL IN DELHI?
The number of sessions depends on several factors: the area to be removed, the characteristics of the hair of each patient, and the type of laser used. In general, all experts agree that the average is 8 sessions to eliminate body hair. In the face, it is more complex because of the hormonal component of facial hair.
CAN IT BE DONE ANYWHERE ON THE BODY?
Almost anywhere. It is only discouraged in the periocular area, according to a cosmetic surgeon in Rohini, " if the skin is tattooed unless we do not mind that the tattoo is affected."
IS LASER HAIR REMOVAL IN DELHI DEFINITIVE?
Yes and no. cosmetic surgeon in Pitampura explains that " in the legs, the groins, the armpits… once we have eliminated all the hair that the patient had, it is normal that there is no latent hair and therefore Both hair removal is permanent for life, if there is some residual hair left, it can sprout after a long time and with one or two re-treatments it would be complete ".
But on the face, it is more complicated to talk about definitive hair removal. As the plastic surgeon in Delhi explains "In the face, we have hair in a latent state in much greater quantity than what is seen with the naked eye. Latent hair may not be activated throughout life or may be activated, so we cannot talk about hair removal for a lifetime in this area. "The same occurs in the androgen-dependent areas: neckline, spine, line alba and lumbar region, and here perhaps some maintenance session is necessary.
To eliminate body hair you will need an average of 8 sessions of laser hair removal in Delhi.
CAN YOU SUNBATHE BEFORE AND AFTER?
Although there are already teams that can treat patients with tanned skin, specialists believe that laser hair removal in Rohini is safer and more effective when the patient does not have a recent tan. Depending on each phototype, it is recommended not to have taken the sun, at least a week before, but it would be a month. And after the session, you will have to wait at least a week before exposing yourself to the sun.
IS IT CONTRAINDICATED IN ANY CASE?
Yes. Laser hair removal in Delhi is not recommended in pregnant women (there are no conclusive studies on the effects, but experts prefer not to take risks), neither during breastfeeding. In addition,  it is contraindicated " in specific circumstances, such as taking the medication with photosensitizing drugs, suffering from inflammatory or infectious disease in the area to be treated, being treated with oral retinoids or suffering from a specific intolerance to radiation. laser light. "

ANY RECOMMENDATIONS BEFORE AND AFTER THE SESSION?
Besides not exposing themselves to the sun, experts recommend hydrating the area well before and after the laser session. Dr. Ashok advises "using active moisturizers such as glycerin, and skin recoveries such as ceramides and allantoin, and anti-inflammatories such as aloe vera, for 3-4 days after."
IS IT SAFE?
In expert hands it is a safe and effective method, so we advise you to go to a center that has doctors and trained staff. We are not going to cheat you, there is always a risk of burns, which are generally superficial and not serious. If the burn causes blisters you should go to a medical center.
If you decide to do laser hair removal in Pitampura, we advise you to put yourself in the hands of good professionals who have state-of-the-art equipment.
BETWEEN SESSION AND SESSION, WHAT DO I DO WITH THE HAIR?
If you decide to submit to laser hair removal in Pitampura, you will have to forget about the methods that remove the hair from the roots. Yes, you can use the blade to shave, if between session and session, especially at the beginning, you have a lot of hair.
HOW MUCH LASER HAIR REMOVAL IN DELHI COSTS?
The disparity of prices that you can find is impressive and depends, in addition to the offers or promotions, of the equipment that is used. The most advisable thing is to go to a center that has specialized doctors and equipment of sufficient power.
IS PULSED LIGHT THE SAME THING AS LASER HAIR REMOVAL?
They are similar but not the same. The difference is the light that is used. Laser hair removal in Delhi is more accurate and selective with hairs, while pulsed light (or ILP) sweeps the entire area. In the hands of professionals, both are effective to remove hair permanently.