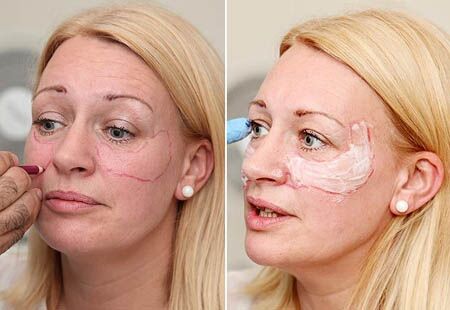 PRP therapy (therapy with platelet rich plasma), also known as Vampire Lifting. Treatment with PRP or injectable facial lift lifting Vampire: information, prices, -before and after photographs.
PRP treatment –Vampire Face Lift
Vampire facelift is very popular among celebrities like Kim Kardashian.
A vampiric lift is a surgical facelift. Your own blood is injected into your face. This treatment is also called filling PRP Lift or Platelet Rich Plasma. The PRP is a mixture of plasma, platelets and growth factors.
The PRP stimulates the production of collagen in the skin, so this will look younger and smoother.
Facelift PRP can be combined with hyaluronic acid fillers to fill deep wrinkles.
The advantages of lifting PRP are:
simple treatment, nonsurgical
Improves skin quality
No incisions, only small holes infiltration
scarless
Local anesthesia
Brief Intervention: lasts between 30 and 60 minutes
You can recover your activity immediately: no need to rest or stay in the clinic
No pain or very little pain after treatment
Safe, natural and effective
rapid healing
favorable effect on the formation of new subdermal tissue
very fast recovery
natural result.
PRP Therapy
Popular areas of application
Vampiric face lift or PRP therapy can be applied for the treatment of:
face, neck, chest and hands
nasolabial fold and folds and other facial wrinkles
acne scars and other superficial scars
wrinkles, fine lines, dark circles zone
Vampire Face Lift
The PRP treatment with hyaluronic acid own blood and improves skin quality.
Lifting the secret of vampiric PRP
Our blood plasma (PRP) contains active growth factors. The cells produce hyaluronic acid, collagen and elastin in our skin.
A PRP treatment rejuvenates the skin from the inside. It is ideal for patients who want to improve the texture and appearance of your skin in a natural treatment. A PRP treatment stimulates new collagen and healthy growth of tissues in the body, so that a natural process starts to improve skin.
The end result is a healthier and firmer skin with a younger and beautiful appearance.
PRP face lift: treatment
Treatment with platelet rich plasma (PRP)
Medical treatments with platelet – rich plasma (PRP) were developed in 2003 by RegenLab in Lausanne, Switzerland. At this time, the PRP injections are recommended to improve skin quality and method hair.
Small injections with a great result
The doctor removes a small amount of blood.
This blood is centrifuged such that only the cells remain or enriched blood platelets (platelets or thrombocytes).
Then, blood platelets (PRP) is injected into the skin with a fine needle.
The enriched plasma created slowly, but effectively, younger, firm and smooth.
The treatment is completely safe. The great advantage of a PRP treatment is that it is treated with substances from their own body. Over Natural impossible!
Vampire facelift – FAQs
Most patients experience a vampiric facelift PRP comp virtually painless treatment. Alternatively, you can choose that the treatment is carried out with intravenous anesthesia. In this case, sleep soundly during treatment and feel no injections.
Yes. Wellness Kliniek only uses the newest technology and patented RegenLab PRP and RegenPlasma ™. This technology is combined with the use of patient 's own cells, so the skin health is promoted in a completely natural way.
PRP therapy with no risk of allergic reactions because of the enriched patient's blood plasma is created. The PRP contains, inter alia, concentrated leukocytes, natural defenses that protect the body from infection. This means that it is highly unusual infections occur.
Will I be injected red blood cells?
No. RBCs are separated from platelets alone is injected into the skin enriched plasma (PRP).
Do I get this treatment in the doctor's office?
No. Perform treatment in a safe environment is vital. The doctor makes the vampiric lifting PRP in the operating room. Thus the best conditions are guaranteed.
What is the duration of treatment PRP?
The treatment usually lasts for 30 to 60 minutes, depending on the treatment area.
When I can go back to work?
After treatment, the treated area may have a small redness with some small hematomas. A couple of days after treatment these manifestations have disappeared.
Should I repeat this treatment?
We recommend starting with three treatments with a break of six weeks for optimum results. Then, depending on skin type, annual or biannual treatments repetition must be done to keep your skin in top condition.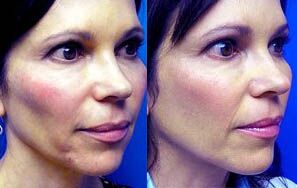 Vampire Face Lift
Medical treatments with platelet-rich plasma (PRP) were developed in 2003 by RegenLab in Lausanne, Switzerland. Currently, skin rejuvenation PRP injection, also known as vampire facelift is the most recommended method for improving skin quality.
Anesthesia and recovery
During the consultation with the doctor, you may indicate the anesthetic method of your choice. The treatment lasts between 20 and 40 minutes and can be performed under local anesthesia. In case you so wish, you can use sedation. Read more
After the intervention will rest in the Tandon clinic. A couple of hours later will return home or to your hotel. It will be quickly recovered and can return to your daily activities after a few days.