What is plastic and reconstructive surgery?
Plastic and reconstructive surgery is a specialization of medicine, responsible for reconstructing areas of the body that have been damaged (either by trauma, burn, cancer, etc.), as well as creating and correcting congenital anomalies such as malformations or agenesis (no formation during embryonic development of a part of the body). The plastic name comes from the Greek "Plastikos" which translates as "mold", therefore the function of the best plastic surgeon in Nangloi is a creative function.
To do this, it uses surgical techniques that transfer tissues from one place to another in the body, and sometimes creating a lost part with other different parts of the body, for example: reconstructing a finger with one from the same hand or one of the foot, reconstruct a breast with back muscles or abdominal tissue, Reconstruct a skin defect after the removal of a tumor, Reconstruct the pharynx with tissue from the thigh, etc.).
Sometimes, prostheses or various materials can also be used to carry out the reconstructions, such as silicone prostheses to reconstruct the breast, matrices of bovine or porcine collagen for skin coverage, polylactic acid tubes to reconstruct defects in nerves., etc.
What is really a Plastic Surgeon in Nangloi?
A Plastic Surgeon in Nangloi is a medical professional who has all the skills and abilities (manual and visual) for modeling the body of people, applying the necessary medical techniques to achieve high quality results. His work is considered almost like that of a body shaping artist.
Likewise, a Plastic Surgeon in Delhi has to follow a career of approximately 9 years. In addition to this, they must also always be up-to-date and constantly train, either inside or outside their country. In short, a Plastic Surgery professional has to have a lot of dedication, effort and perseverance.
Types of Plastic Surgeons
Reconstructive Plastic Surgeon: These are the surgeons who treat patients with deformations or physical defects caused by an accident or traumatic injury.
Pediatric Plastic Surgeon: He is a professional specialized in children who is responsible for correcting diseases of infants with congenital defects or diseases, such as cleft lip cosmetic surgery, facial defects, birthmarks, among others.
Aesthetic Plastic Surgeon: These surgeons specialize in improving the aesthetics of the face or body (Body Cosmetic Surgery and Facial Cosmetic Surgery) of healthy people without any disease. Among the surgeries that stand out the most are: Liposuction, Abdominoplasty, Rhinoplasty, Intimate Rejuvenation, Blepharoplasty and Mentoplasty.
What is its relevance?
Although the role of the best plastic surgeon in Nangloi is not to preserve or save life, it does have to preserve or recover the best possible functionality of the patient, while seeking a good aesthetic result, because even if we return the form and function to the patient with a good Reconstruction, if the patient does not look "normal" from an aesthetic point of view, it cannot be considered a good result and the improvement in quality of life will not be as noticeable. Therefore, the plastic surgeon directly influences the quality of life of the patient.
What are the most common problems that plastic surgeons treat?
Scars
Tumors of the face.
Hair loss.
Skin problems
Facial aging
Congenital anomalies.
Tattoo problems.
Buttocks and sagging breasts.
Eyelid problems.
Reconstruction of the breasts.
Sun spots on the skin.
Malformations of the lip or palate.
Facial and skull deformities.
Breast development abnormalities.
Birth spots, warts, or moles.
Cosmetic problems of the nose, chin or cheekbones.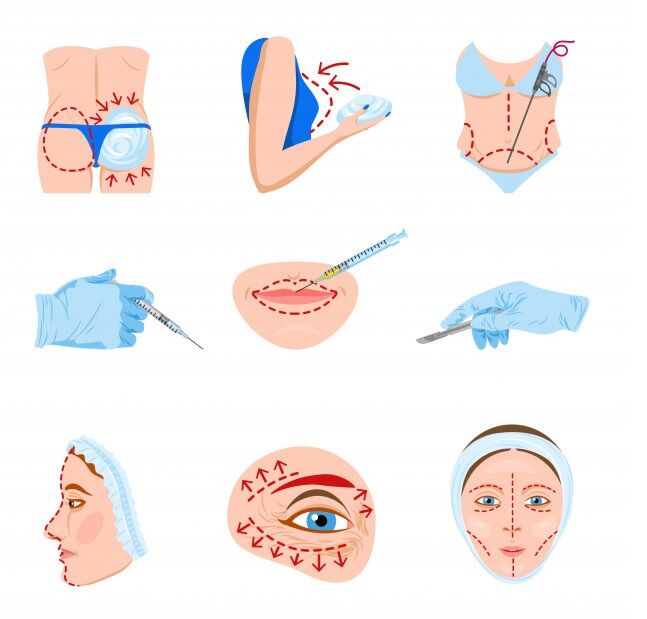 What is the difference between plastic surgery and cosmetic surgery?
The surgical techniques used in both sections of plastic surgery are shared. The separation between the two branches is more conceptual than technical, since one always supports the other. Both branches require an exquisite knowledge of anatomy and functionality, to obtain the best results.
Queries
Regardless of their specialty, all plastic surgeons consult with patients. The doctor should communicate with the patient to determine the desired outcome of the surgery and to explain the possible risks and side effects of the surgical procedures. Plastic surgeons who work in emergency medicine or with burn victims may work on patients who are unconscious or unable to communicate. In these cases, surgeons often communicate with the patient's family to determine the best course of treatment.
Surgical preparation
Doctors may need to do tests before surgery. For example, X-rays are needed in an accident victim to perform reconstructive surgery. Surgeons can also mark incision lines on patients before surgery. In addition, physicians must ensure that patients are in good enough health to undergo surgery and anesthesia.
Other considerations
Plastic surgeon in Nangloi also provides follow-up care to the patient after surgery to make sure that infections are treated or avoided and that the surgery meets its goals. In some cases, they may refer patients to physical therapists and other specialists to complete their recovery. Surgeons also perform some administrative tasks, including updating the patient's medical records with test results and annotations.