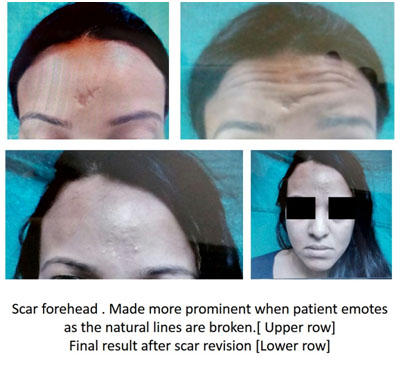 Dr. Ashok Tandon, Plastic Surgeon in Delhi, explains about scars & its treatment.
Human skin is not a blackboard. It remembers every single serious insult as a scar.
Scars are visible because of various reasons- level discrepancy, color changes, texture differences, pull on adjoining structures etc.
Scars change with time- most scars improve but some deteriorate as well.
Scars cannot be made to disappear outrightly but can be improved by medical or surgical means.
Immature scars are amenable to improvement by medical treatments like scar improvement creams, pressure garments, silicone gel sheet or lasers.
Those scars which do not improve with time are considered for scar revision surgery after 6 months to one year.
Early scar revision is done only for serious functional problems like ectropion of the eyelids which can lead to corneal damage and watering or ectropion of the lips which can lead to difficulty in feeding.
Scar revision is undertaken only if the scar can be improved by correction of some factor which originally led to the undesirable result.
Scar revision procedures can be very simple to very complicated; the choice is dependent on the nature of the scar. Anesthesia can be local, regional or general.
Medical treatments follow the surgical procedure.
More than one procedure may be necessary.
End results are achieved after 6 months to one year.